Barre Sculpt
The Barre Sculpt class is a booty-bustin', quad-quakin', long lean muscle makin' Ballet Barre workout combined with your favorite fitness, cardio, and strength training moves. This 50 minute class is Barre and Mat based but also incorporates the TRX Suspension Trainer and Pilates Springboard. Props such as weights, BOSU and gilders will add to the burn! Lengthen, strengthen, tone, and define every muscle in your body in this fun and fluid class. This class offers a proportional full body workout reshaping your buns, abs, arms, and thighs while creating long and lean muscles that are flexible and strong!
Class is suitable for all levels as modifications are offered.
This class is not suitable for those with injuries.
Stretch and Restore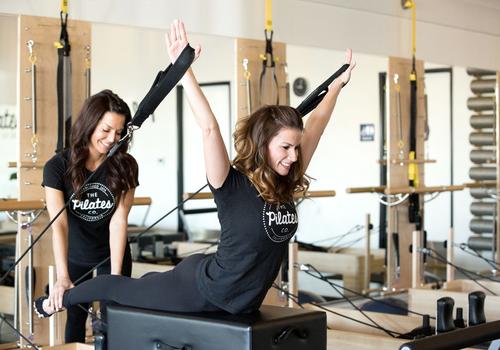 Come unwind and decompress with us while working on your flexibility. This is an equipment and movement based class. The class keeps a slow flow using mainly the Reformer and props such as the foam roller, dowel, and resistance band. Instructor offers hands-on, individualized adjustments, and corrections to assist you in deepening your stretch. The importance of breathing and posture will be taught throughout the entire 50 minute class. We will safety take you through exercises that will stretch and lengthen muscles head to toe. The class will be taught to dim lights and with a warmer temperature.
This class is suitable for all levels.